Almost every country in the world has its own airline. Bangladesh also has some airlines such as Biman Bangladesh airline, Novoair, US-Bangla airline, etc. Do you know, there are specific routes for each country's aviation internationally. This system has been followed to avoid Biman accidents. Here I am going to show you the Bangladeshi airline route map. I hope this article will be informative for you. Please keep reading carefully.
Air Route Map Of Bangladesh
Biman Bangladesh Airlines is the only national airline in Bangladesh. The other two, Novoair and US-Bangla Airlines, are privately own airline companies in Bangladesh. Among these airlines, Biman Bangladesh airline and US-Bangla Airlines are provided international and domestic flights. The Novoair is mainly for domestic uses, but this airline also has an international destination in Kolkata, India. The air route of this airline is given below to have a look.
Biman Bangladesh Airline Route Map
Since the Biman Bangladesh Airline provides Internation and domestic flights, I have divided the aircraft map into two parts: a domestic route map and an international route map. Read below to know more.
Domestic Route Map: The Biman Bangladesh Airline serves its service in 8 destinations in Bangladesh. Biman Bangladesh Airlines' domestic destinations are Rangpur, Rajshahi, Jessore, Chittagong, Barishal, Sylhet, Pabna, and Cox's Bazar. Dhaka Hazrat Shahjalal International Airport is the main hub of this airline. Below is an image added that will give you a proper idea about this airline route.
International Route Map: Biman Bangladesh Airlines has a lot of international destinations. Check the below Map.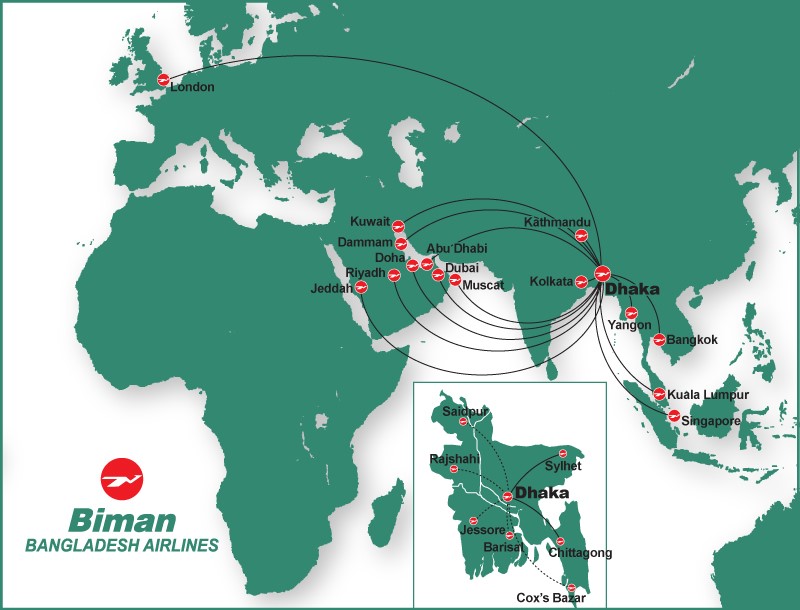 US Bangla Airline Route Map
Domestic Route Map: Presently, Us Bangla airlines operate domestic flights in eight domestic Destinations in Bangladesh. Dhaka, Chattogram, Cox's Bazar, Jashore, Sylhet, Saidpur, Rajshahi, and Barishal. Below is the route map is given; check it now.
International Route Map: US Bangla Airlines is one of the largest private airline companies in Bangladesh. This airline has a lot number of international destinations. Keep an eye on the below Image to know about the International route map of the US Bangla Airlines.
Novoair Route Map
Mainly Novoair airlines use domestic flights under Bangladesh. This airline flies from its main hub Dhaka to 8 domestic destinations in Dhaka, Chittagong, Jessore, Cox's Bazar, Sylhet, Rajshahi, Saidpur Barishal. This airline has only one international destination in Kolkata, India. Below is an Image added, have a look and know about the flight route of this airline.
Regent Airways Route Map
Regent Airline route map is available here. Regent airline has both domestic and international flights. In the following image, all the destinations, especially the international destination, have appeared clearly. Regent airline has more than 14 destinations internationally. Fort more information, keep your eyes below.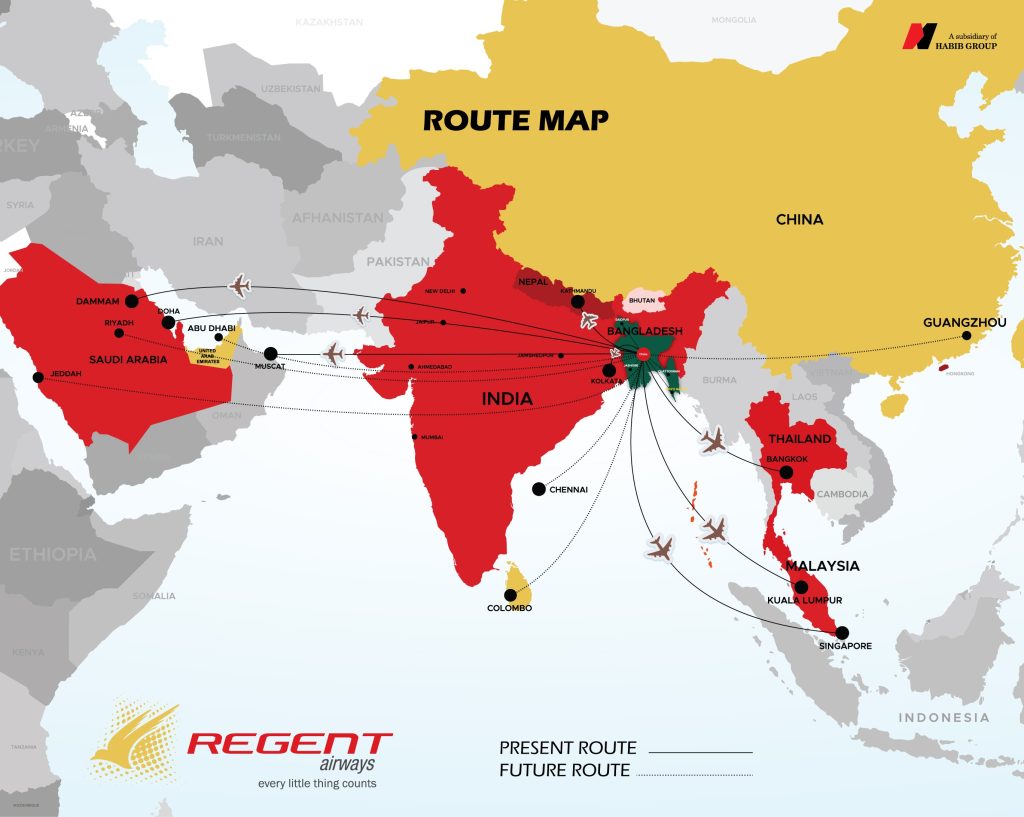 All information and images in this article are taken from the internet. If you find any wrong information, please inform us by commenting on the below comment box. Stay tuned to know any types of updated information about Bangladeshi airlines. Thank you.